Contact Us
You do have any enquires or complaints, we are open to hearing from you. You can contact us through any of the means below.
HOTLINE: 09060529138 (Calls Only)
WHATSAPP: 08171238080 (Chat only,please dont call)
EMAIL: zignal2013@gmail.com
INSTAGRAM: @zitcexchange
DAYS OF OPERATION: Weekdays Only: 9:00am - 4:30pm
EFFURUN 1
79 Hospital Road, By Kom Chop Fast Food, Ekpan, Effurun, Delta State, Nigeria
WARRI 1
70B, Airport Rd Opposite GT Bank, Effurun, Delta State, Nigeria
BENIN 1
New Lagos Road, By Uselu Shell Opposite Gt Bank, Benin, Edo State, Nigeria (Branch Office)
PORTHARCOURT
74 Aba Road Opposite government Craft Center,Beside Wema Bank,Port Harcourt
ASABA
Suite 44,independence mall,beside villa toscana hotel,okpanam road,Asaba
EFFURUN 2
Shop 51, Robinson Gbagi Plaza, PTI Junction, Effurun, Delta State, Nigeria
WARRI 2
Block L Shop 14, Robinson Plaza, Deco Road, Warri, Delta State, Nigeria
BENIN 2
Block A, Shop 11, Pat Ogbemudia Shopping Complex A, No.1 Adesuwa Junction, Benin, Edo State, Nige
SAPELE
Shop 22 Wealth plaza. 20 Okpe road. Sapele, Delta State.
UGHELLI
317 Ugheli/patani Road , beside Kilimanjaro Fast Food , Ughelli, Delta State.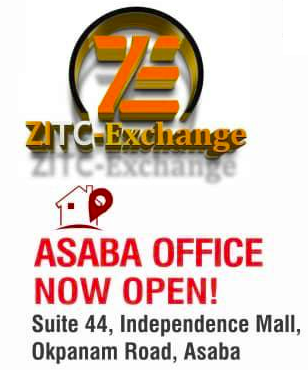 OUR ASABA OFFICE IS NOW OPEN FOR BUSINESS
We are expanding.Our Asaba office is now open for operations during weekdays between 9:00 am- 4.30pm.Walk-in at any time during this period.Thank you for your continuous patronage.