This is to inform the general public and our esteemed customers that ZITC-Exchange only provide the following services:
Buying and Selling of PerfectMoney, Bitcoin, GifCards, other e-currencies.
We do NOT provide 'Lottery, Visa, Recharge Card Printing or vending, Promo, Form or scratch card selling nor any of such services.
We hereby use this medium to warn the general public and our esteemed customers to always verify any transaction on our website or call Phone No 08066596073 (work hours only)
Before making any payment or responding to any claim/offer in the name of ZITC-Exchange.
ZITC-Exchange will not in any way be held responsible for any unverified payment or claim.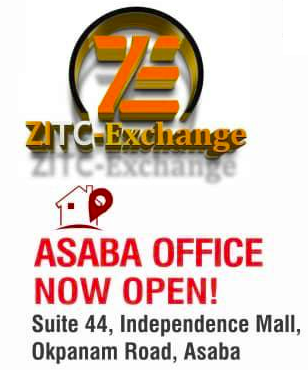 OUR ASABA OFFICE IS NOW OPEN FOR BUSINESS
We are expanding.Our Asaba office is now open for operations during weekdays between 9:00 am- 4.30pm.Walk-in at any time during this period.Thank you for your continuous patronage.