Customers using any services offered by ZITC-exchange consent to be bound by and must comply with all policies in this TAC and the Privacy Policy published on the website .
At the sole discretion of ZITC-exchange, any violators of this TAC may have their services cancelled without refund and/or, if deemed appropriate, be legally prosecuted.
We" refers to ZITC-Exchange (a website operated by ZITC-Mobile Business Ventures) and "You" refers to anyone using the service of ZITC-exchange.
We are not a financial institution and not subject to financial regulations. We are not a subsidiary of BITCOIN,PERFECTMONEY,OKPAY.WMZ AND ENTROMONEY but a partner and accredited exchanger.We are an Independent E-currency Exchange Service Provider..
General Provisions
Before using any of our services, you agree to these terms and conditions and guarantee to be bound by it.:
We offer our services to Nigeria,
All users submitting their first order excess of aggregate amount grater than 200USD regardless of time the number of payments the amount is divided, will be asked to undergo verification procedure upon receipt of funds by ZITC-exchange.
Multiple ZITC-exchange accounts is not allowed. We allow only one account per customer. In the case multiple accounts are detected to have been opened by one customer, One of the accounts will be kept active while others will be locked.
You are responsible for supplying your correct E-currency account number. In the event that your fund is sent to a wrong account because you supplied a wrong account number, we will not be liable for any loss you may incur.
You will not use our services for money laundering activities.
We will keep records of all transactions and we will make them available to relevant authorities when necessary. We respect the privacy of our clients and will not share your information with anybody.
For obvious security reasons, we do not provide our E-currency account numbers on this website. Customer willing to spend his/her E-currency to us is required to follow the instruction as contained in the ZITC-exchange user account.
All transactions are concluded within 0 – 24 hours. If there is any delay in your account funding or withdrawal, you will get in touch with our support department on the contact information listed on our contact page.
ZITC-Exchange reserves the right to cancel pending orders that are older than 24 hours.
E-currency funding is final. You can not request a refund of your money once your e-currency account has been funded.
In the case you are spending your E-currency to us. We pay into your bank account the equivalent amount of the E-currency we receive in our account. The reduction in the amount paid into your bank account is due to the receiving fee the payment processor charge on all transactions.
Refund Policy,For any reason you need to demand for refund, this must be done in writing either electronic or physical. If the need for a refund is caused by us or we consider it neccesary, refund will be made within five (5) business days and we will remove 10% handling and 5% VAT and make refund within 5 business days from day of request.
Bank Account funding is final. You can not request a refund of your E-currency once your Bank account has been deposited otherwise you will need to place a buying order to the company again.
We reserve the right to change the price of any of our products buy posting the information on our website. Note that a mail may not be sent to a customer for any changes in the price by the company.
We reserve the right to amend these terms and conditions at any time.
By using any of our services, you agree to be bound by these terms as stated here.
Signed.
Management
ZITC-Exchange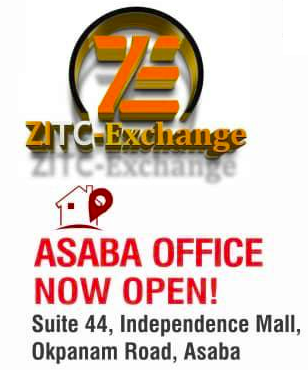 OUR ASABA OFFICE IS NOW OPEN FOR BUSINESS
We are expanding.Our Asaba office is now open for operations during weekdays between 9:00 am- 4.30pm.Walk-in at any time during this period.Thank you for your continuous patronage.