Frequently Asked Questions
What is e-currency?
E-currency means electronic currency and is a means of exchange with which you can make and receive payments online.examples include Bitcoin,Perfect money,Entromoney,etc.
I already have an e-currency account, how can I fund it ?
Register on www.zitcexchange.com and click on buy e-curency,sellect type then proceed to complete order.
How much do you sell and how can I go about it ?
The price fluctuates.No fixed price, before you make payment to our account first place your order to get the current price.
How long does it take for my account to be funded?
We fund your account once we receive your payment in our bank account. at our offices, we do instant funding most times.
If I want to convert my e-currency to cash, how do I do that and how long will it take for me to get paid in Naira?
You have to login into your account in our site and follow the process.Please do not send to our account before approval except otherwise instructed to. We pay either same day or within 72 business hours as case may be.
Can I pay cash at your office?
Yes, we can accept cash less than N100,000.00 in our office. Or come with your ATM to use our POS. Amount bigger than the stated should be deposited into any of our bank accounts.
We use all Nigerian Banks.
What If I change my mind and Want a refund ?
We can offer you a refund but that must be in accordance with our refund policy. See Terms and conditions Page for the policy.
What's your working/support hours ?
We work9:00 am to 4.30pm Monday – Friday only. Our Support phone is only available during our working hours, please do not call outside this time. SKYPE,WHATSAPP.
Do I get a reward for referring someone ?
Yes, our website has referral program. You get a certain percentage whenever the person you refer makes a successful buy or sell order.
I noticed an error in the amount credited to my account. What should I do?
Just use the form on our contact page to inform us of the details of the error. We will act on it promptly.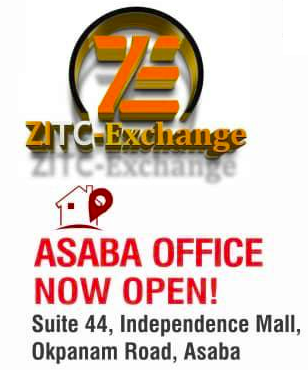 OUR ASABA OFFICE IS NOW OPEN FOR BUSINESS
We are expanding.Our Asaba office is now open for operations during weekdays between 9:00 am- 4.30pm.Walk-in at any time during this period.Thank you for your continuous patronage.